Ship transformers and transformers for shipbuilding
The transformers are widely applied in the shipbuilding and shipyard industries. They can be operated on shore, in shipyard devices as well as on vessels, in all climatic zones, supplying the control and lighting systems and starting the tubular rudder motors.
These transformers are required to meet more stringent operating requirements (resistance to vibration, shock and climatic conditions) and the constructional solutions used are different from those for on-shore operation.
Power transformers for ships:
The transformers intended for these purposes should meet the requirements specified in EN(IEC) 61558 and EN(IEC)60726 standards, as well as the requirements of separate regulations of marine classification societies, which supervise vessel construction and repair.
Transformers require approval or certification by these societies for being installed on vessels.
Most often the ships are built under the supervision of the following classification societies:
ABS – American Bureau of Shipping - USA
BV – Bureau Veritas - France
CCS – China Classification Society - China
DNV – Det Norske Veritas - Norway
GL – Germanischer Lloyd - Germany
LR – Lloyds Register of Shipping - Great Britain
NKK – Nippon Kaiji Kyokai - Japan
RINA – Registro Italiano Navale - Italy
PRS – Polski Rejestr Statków - Poland
RMRS – Russian Maritime Register of Shipping - Russia

For the NATO Navy, transformers should also be certified as follows:
AQAP – issued by National Military Institution of country being a member of NATO.

ELHAND power transformer for vessels, type ET3SM, in IP23 enclosure.
Starting autotransformers for tubular rudders:
EA3RM-COMPACT starting transformers are intended for starting the motors of tubular rudders. These autotransformers cooperate with motors with power from several kW to several MW. Voltage levels on taps, time of starting duration and all parameters determining the operating conditions of machine are agreed in details at the design stage.

The method of starting with using of starting autotransformer is applied in particular in high-power drives, where the current taken during starting from the power network is a critical parameter. In case of starting autotransformer the voltage may be freely lowered for the duration of motor starting, by appropriate selection of ration, so that the current taken from the power network does not exceed the set value.
Benefits from starting with autotransformers:
the current flowing from motor windings (IRS) is decreased – it is lower by autotransformer ratio:

the current taken from the power network during starting (I1) is decreased – it is lower by the square of autotransformer ratio:
the possibility that vessel devices will be turned off due to too low voltage arising during a direct starting of rudder motor is eliminated.
where: ϑ –autotransformer ratio , IP – initial starting current when motor is supplied with full voltage, IRS – current flowing in motor winding, I2 – autotransformer secondary currant, I1 –autotransformer primary current (taken from power supply network)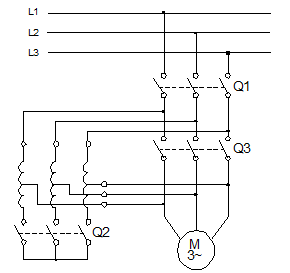 Starting system of induction motor with starting autotransformer.
The starting is conducted in two stages, without potential-free breaks.
Initially the starting of motor is supplied with lowered voltage, from autotransformer; Q1 and Q2 contacts are closed and Q3 contact is open.
During this time the starting current is limited by appropriately selected autotransformer ratio.
In the second stage Q2 and Q3 contacts are open and the motor is supplied from power network, through Q1 and inductances of autotransformer windings parts, which are turned in series. These windings play the role of chokes limiting the starting current. When the motor reaches an appropriate rotational speed, it will be supplied with full voltage, directly from the power network, with Q1 and Q3 closed.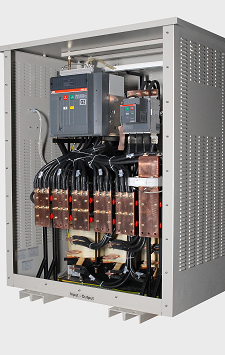 ELHAND starting autotransformer for tubular rudder motor, type EA3RM-COMPACT.
Safety transformers for personnel working in shipyard docks
In reply to the demand of shipbuilding industry ELHAND designed a mobile, 3-phase safety transformer. The transformers of ET3oM type are intended for supplying the selected workstands in the shipyard docks with safe voltage of 42 or 24 V. They supply devices and power tools used by repair teams.
The mobile safety transformers of ET3oM type are produced in marine version, in first class of protection. They meet the requirements of EN 61558 standard and PRS regulations. Their construction is adapted for severe conditions occurring in the shipyards and their resistance to mechanical damages is increased. Moreover a tight enclosure, with IP54 protection class, protects the transformer from the influence of pollutions and humidity.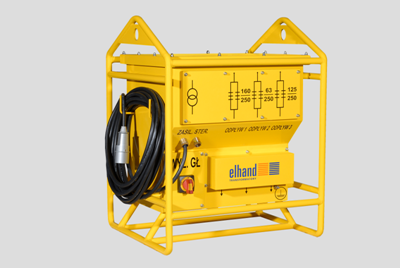 ELHAND, 3-phase safety mobile transformer, type ET3oM, for power supply of hand operated devices.